This review is only about Cocoleech.com's paid VIP offer. A review of CocoLeech.com's free offer can be found in our
Review from July 2018
.
The situation at Cocoleech has unfortunately deteriorated in the meantime. Please check our
latest review from 2019
.
While I tested Cocoleech's free offer last month and was quite enthusiastic, I am now very excited about the paid offer. The biggest flaws of the free offer were the many dubious advertisements, the captchas and the download limits; of course also completely understandable with a free offer. Since these points should now be dropped with the VIP membership, I am curious whether Cocoleech can achieve a 9+ rating.
What is offered:
Cocoleech offers over 30 filehosters, including many interesting ones like Depositfiles, Icerbox, Rapidgator, Nitroflare and Share-Online. The respective status is also displayed transparently in the overview. Unfortunately Novafile and Share-Online did not work at the time of testing. Above all Share-Online would have interested me very much, since one looks for this hoster with almost every Multihoster in vain, however the hoster is also marked as unstable and it stands clearly thereby that it cannot be promised that the hoster works..
Note: Only in the further process of my tests I did notice that the list on Cocoleech apparently shows real-time data, e.g. Rapidgator was initially marked as offline and suddenly online after reloading the page. Furthermore, Novafile was offline at the time of testing, which was probably the reason why the hoster was also displayed offline at Cocoleech.
Limits:
The limits are very transparent and super simple. Basically there is no traffic limit, but some filehosters have daily limits. "Some" may be the wrong word, because less than half are really unlimited, especially filehosters like Zippyshare and Mega. All other hosters have an average limit of 3-30 GB per day. Sometimes I find the limits a bit very limited, because also filehosters like Filer.net and Mediafire.net, which are not really considered problem-hosters, offer only very little traffic per day.
A complete list of hosters and limits can be found here.
The Website:
The website is very clear and everything is easy to find. The downloader, the premium packages, the hoster list, the support and the account overview can be accessed via the menu. That's all you really need. Everything unnecessary has been dispensed with.
A little sticking point is the downloader, which could use a few more functions, so you can't upload DLCs and you can only add a maximum of five links. Here you can clearly see that the downloader is only intended for quick downloads if you don't have a download manager at hand. In my opinion completely ok, because most of them should use a download manager like jDownloader anyway.
The Service:
Filehosters
The filehosters could actually convince me. Almost everything worked exactly as indicated. I tested Uploaded, Rapidgator, Icerbox, 1fichier, Nitroflare, Depositfiles and Fboom. Only the download of Fboom didn't work, although the hoster should work. And in fact, the hoster blushed after only one minute. A day later Fboom also worked again.
Unfortunately the download of Rapidgator via the jDownloader didn't work, no problem via the website.

Update: According to support, the problem was solved in the meantime, but Rapidgator didn't work temporarily anymore, so I can't confirm that.
The Speed
We test the speed with a 1 GB test file with several servers. For more information about the process here.
United States: 11.2 MB/s
United Kingdom: 15.0 MB/s
Netherlands: 13.4 MB/s
India: 11.4 MB/s
Singapore: 9.32 MB/s
Australia: 8.17 MB/s
However, the values are not reliable, because like the free version, the VIP version relies on different servers, with different providers, so that my download speeds deviated strongly from each other, but I almost always came to at least 3 MB/s per connection, which is still easily sufficient.
Support
Support is available via a helpdesk and states that the maximum response time is 8 hours. A rather sporty goal that they always kept with me with one exception. During my test I had the problem that an error message was displayed immediately after logging in. No problem, because you were logged in anyway, you only had to return one page. Nevertheless I informed the support and it took only 4 minutes and 5 seconds until the problem was solved and I had a feedback. I honestly haven't seen anything like it before. Kudos!
The Pricing:
Cocoleech offers packages from one week. The package is quite expensive with 4.99 USD, but perfect for testing or for occasional downloaders, who get along with the unlimited filehosters and therefore only need a premium account for a short time. A month is not much more expensive with 7.99 USD. It becomes interesting from the 3-month package (19.99 USD), because Cocoleech adds 15 days for free, with the 6-month package (35.99 USD) even one month. Currently still displayed as a Christmas special is also the 1-year package for 55.99 USD. Finally, Cocoleech VIP is available from as little as 4.67 USD per month.
Whereby, this is not entirely true, because the so-called loyalty points are also available for premium purchases. The model is already known from Uploaded.net. Each premium purchase earns a certain number of points and 10,000 points can be converted into one month of premium. For example, the 1-year package already includes 10,000 points, otherwise there are always 1,000 points per month purchased (the weekly package is the exception, there are already 500 points).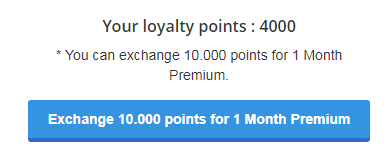 You can't complain about the payment methods offered. Cocoleech offers several payment service providers, therefore many payment methods are accepted twice and three times. For example VISA, Mastercard, American Express, PayPal, Amazon Pay, Sofort Bank Transfer, iDeal, Bitcoin. But be careful, one of the payment service providers is FastSpring and this one still beats taxes on top. Otherwise PayPal is offered with +20% fee and Bitcoin even with -20% discount! There are also many resellers.
Unfortunately, there are probably no refunds or free trial memberships.
Conclusion:
CocoLeech.com offers excellent service. The supported filehosters are impressive and many of them you won't find among the competitors. The website is clearly arranged and the downloader is sufficient for an occasional download in between. jDownloader is of course also supported. Apart from the rather low limits (although some filehosters themselves are not better), I only noticed small negative things, which are not as important.
If you are really looking for a traditional multihoster that really only concentrates on filehosters, Cocoleech is clearly the right address, especially as the prices are very reasonable.
Transparency Notice:
For this test, Cocoleech.com provided us with a free account. However, this does not affect our objective review. Further information can be found here.