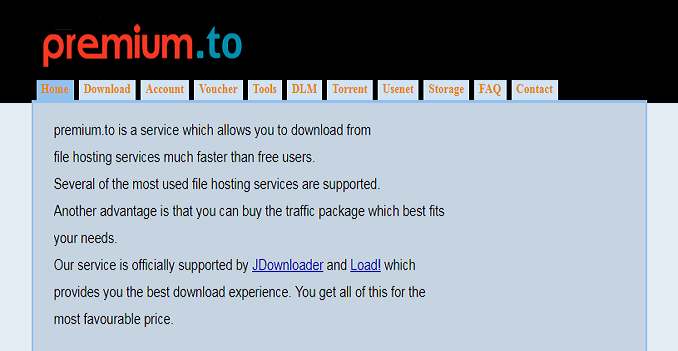 Premium.to is rather a small multihoster, but one of the few that offers traffic packages with unlimited validity. While the website calls you to leave at first visit, I'll take a look at the most important thing: the functions offered.
What is offered:
Premium.to offers the direct download of 10 file hosters, from which the half are marked with "limited traffic" or "no guarantee". What exactly "limited traffic" means is not explained, but probably that there is not enough traffic for the whole day and that it can be used up early. Fortunately Premium.to offers even more, namely a web storage: Links from 8 file hosters (Uploaded.net, Rapidgator.net, Keep2Share.cc, Icerbox.com, Depfile.us, Uptobox.com, Turbobit.net, Florenfile.com) can be added and downloaded (as soon as available) from Premium.to. As soon as they are completely available, the files can be downloaded to the computer. The same is offered for downloading torrents. Downloading from the Usenet is also possible, but only in conjunction with a Usenet newsreader.
Premium.to also offers a proxy service with ten different servers.
Limits:
Premium.to does not have any download limits as it is always charged by traffic. However, the billing of traffic is sometimes quite complicated. While the direct download of filehosters and the Usenet is normally charged 1:1, the download via the web storage costs between 100% and 250%, since both the download into the web storage and the download from the web storage is charged separately. Torrent downloads, on the other hand, only cost 20% of the actual traffic. The use of the proxy server costs 25%.
The Website:
The website seems to be the same since the start of Premium.to (at that time as premium4.me). Functions have been built into every corner, but the main thing is that it works! The website is very clear and everything superfluous has been waived. However, at first sight it seems to be quite deterrent for new customers, e.g. the hint to the proxy service can only be found on the HTTPS version of the website and the exact proxy information is simply in a text file.
The Service:
Filehosters
The selection of filehosters seems minimal at first glance, but many important filehosters are covered by the storage feature. Of course, downloading is less comfortable, but since Premium.to relies on traffic anyway and thus appeals to users who want to download sporadically, this should not be a major problem.
Direct Download
Although I tried downloading Rapidgator, Turbobit, Uptobox, Filer, 1fichier and Uploaded, only Uploaded and Filer worked. For all others, I was notified that no premium account was available, or that the file was not found. The jDownloader jumped regularly into the free mode.
Download via Web-Storage
The input of the desired links works simply over a textfield, into which the links can be entered. Unfortunately there is no possibility to use Click'n'Load, but DLCs can be used. It would be nice to know how long the download can take. I uploaded a 100 MB file to Rapidgator, Keep2Share and Icerbox and tried to download it via the web storage. After about an hour the status of the file on Keep2Share changed to "File not found", which of course was not true. Rapidgator was downloaded after a few days, but Icerbox is still in queue.

Torrent
The torrent downloader really impressed me. An added torrent was loaded into the web storage within seconds and was immediately available for download. Furthermore you have some practical functions for the download, e.g. to download the torrent as.zip file or to download the torrent directly with the jDownloader (Click'n'Load).
Usenet
Downloading from the Usenet works only via a Usenet newsreader. Premium.to recommends NZBGet, SABnzbd or Alt.Binz. However, the jDownloader also works without any further configuration.
Proxy
The proxy server works quite smoothly. It is recommended to use it with an addon like FoxyProxy, because Premium.to itself does not offer a browser addon. Websites could be quickly accessed via the tested locations in Europe, America and Asia. Unfortunately streaming of live TV via the Swiss proxy server and Teleboy.ch did not work and Netflix does not work with the US server. However the traffic would be too expensive for streaming and you would be better served with an unlimited proxy or VPN provider. You also have to think carefully about what you want to use the service for, because 25% of the traffic is charged. Under no circumstances downloads from Premium.to should run via one of the proxy servers.
The Speed
Download from Filehosters
We test the speed with a 100 MB test file with several servers. Further information on the process can be found hier.
United States: 14.5 MB/s
United Kingdom: 11.5 MB/s
Netherlands: 41.3 MB/s
India: 11.7 MB/s
Singapore: 10.4 MB/s
Australia: 5.07 MB/s
Japan: 481 KB/s
Download from Web-Storage
Again I test with the same file:
United States: 26.2 MB/s
United Kingdom: 40.8 MB/s
Netherlands: 41.0 MB/s
India: 9.80 MB/s
Singapore: 7.16 MB/s
Australia: 8.09 MB/s
Japan: 9.43 MB/s
Download from Usenet
Unfortunately, the speed left something to be desired, so I could only reach about 1.6 MB/s per connection. However for the irregular use this is still completely within the scope. A 50 Mbit/s line could be used without problems, for the 100 Mbit/s line it was not quite sufficient.
Support
Support can be reached by e-mail in the classic way. There is no helpdesk or similar. Enquiries are answered quite quickly and competently.
The Pricing:
Don't forget that Premium.to is intended for users who download only sporadically and for whom a regular premium account (on time base) is not worth. The smallest 125 GB package costs 5 EUR (0.04 EUR per GB), while the most expensive 850 GB package costs 25 EUR (0.03 EUR per GB). Other packages are also available through the official resellers.
Premium.to also offers a 1500 GB "Specialtraffic" package (25 EUR), which can only download from Uploaded.net, Rapidgator.net, Filer.net, Oboom.com and the Usenet.
The payment methods are rather meagre, so neither credit cards nor PayPal are accepted. Payment can be made via Amazon.de voucher, crypto currencies, bank transfer and Webmoney.
There is no information about refunds or free trial accounts.
Conclusion:
Premium.to could not convince in the filehoster test. The offered filehosters are a catastrophe, because of the already limited filehosters, only a a few worked and the storage is not even jDownloader compatible. Also the website should be renewed urgently, the information to the proxy service in the text file is only the tip of the iceberg. There are no TOS, privacy policy or imprint available.
However, the torrent downloader, the Usenet servers and the proxy servers definitely stand out positively. These convinced by the uncomplicated use and are very practical if you mainly use filehosters, but want to load one or the other file from the Usenet or as torrent. Because you pay for the traffic and not for the time, it's not so bad if something doesn't work without problems.
Of course, everyone has to know for himself , but I would strongly advise against Premium.to for the exclusive use of filehosters.
Transparency Notice:
For this test, Premium.to provided us with a free account. However, this does not affect our objective review. Further information can be found here.
Traffic Calculation
5.0/10
Pros
Torrent / Usenet available
Highspeed Downloads
Proxy included
Fast Support
Cons
Very limited number of filehosts
Filehosters hardly work
Website should be improved
No refund- / trial information
No TOS / Privacy Policy
Complex traffic calculation