Premiumize.me has existed for many years and was probably one of the first multihosters. While at the beginning the focus was only on file hosting, in recent years it has moved more and more in the direction of torrent, Usenet and cloud and has since developed into a Swiss pocket knife for the Internet.
What is offered:
Premiumize.me currently offers 38 file- and streaming hosts, as well as 15 porn websites. As already mentioned, torrents or Usenetfiles can also be downloaded. There is also a VPN service (27 locations), worldwide VoIP telephony, proxy servers and of course a cloud storage. You can add files from filehosters, Usenet, Torrent, HTTP(S) or your own computer to the cloud.
Limits:

The limits of Premiumize.me are extremely complicated. Basically every user has 1000 points per 30 days. These 1000 points are 1000 GB in the best case (e.g. downloads from the Usenet, Torrent and some filehosters). Some filehosters have a so called "factor", which means that you have to multiply the traffic used by these filehosters by the factor (example: factor 3 and 5 GB traffic = 3*5 = 15 points). Since this is obviously not yet complicated enough, there are also individual daily limits for filehosters (e.g. a certain limit in gigabytes or a certain number of download links). With Premiumize.me everything costs points(apart from the proxy servers). The storage space in the cloud is also calculated with one point per gigabyte, just like the VPN traffic. If you use VoIP, you will not be charged per minute in points, but you will be charged 100 points for your VoIP credit.
It gets really complicated when you buy so-called booster packages (additional points).
A calculator is highly recommended. At least everything is listed neatly in a table.
The Website:
The website is a little bit angled and confusing, but has already been significantly improved. All required functions can be found somewhere (more or less well). Unfortunately, a small redesign has been done recently, which makes the site look much more confusing again. At first I thought that my adblocker was blocking something, e.g. the website runs almost seamlessly over into the footer, but apparently the design is wanted that way. That may be a matter of taste, but I don't like it at all.
Update: As I only noticed after the test, Premiumize.me has a little bit hidden blog. From time to time there are interesting new features that might otherwise have been overlooked. You can find it at blog.premiumize.me.
The Service:
Filehosters
The offered file hosters could not not convincing me. Many important hosters like Keep2Share, Rapidgator, Share-Online, etc. are missing. Others like Icerbox, Turbobit, Depositfiles are so extremely limited (only a few download links per day) that they are only useful for irregular leeches. After all, some filehosters such as Uploaded, Filer, Openload, etc. are included without a daily limit. However, there are only 16 file hosters, which are not additionally limited, thats less than half.
At least most offered filehosters work if they are displayed as working.
Pornsites
The porn pages offered can be used without problems via the Premiumize.me browser addon or downloaded via the WebDownloader. Unfortunately the quality of the videos is limited to 720p HD. A quality selection has been promised by the support team for over a year, but nothing has happened since then. This is very sad especially for VR videos.
Torrent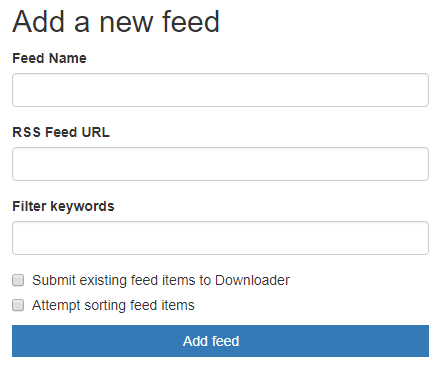 The download of torrents is often associated with errors. By inserting a magnetic link or uploading a .torrent file, the torrent should be added and downloaded. Once this is complete, the files are available in the cloud. Unfortunately, during my tests the .torrent file was not accepted repeatedly or the download failed at some point.
You can also specify RSS feeds at Premiumize.me and the torrents they contain are automatically loaded into the cloud.
Usenet
Similar problems as with the torrent have also occurred with the Usenet download. At least there are alternatives to cloud downloads on Usenet, so both jDownloader and any newsreader are supported. Unfortunately, these have a decisive disadvantage, because when downloading Usenet files in the cloud, additional providers are checked if the files are no longer available with the first provider. Unfortunately, this is not available when using newsreader or jDownloader.
The Cloud 
The cloud is sufficient in general. It is possible to download files from filehosters, Usenet, Torrent and HTTP(S) remotely and you can also upload your own files via the website. Since I use Premiumize.me privately for some time, I can say that I lost data more often, so the cloud cannot replace Dropbox and Co. However, for the files you download with Premiumize.me, it should easily suffice. The basic management functions such as copy, cut, paste, rename, etc. are available.
By the way, the cloud is fully jDownloader compatible, so you can simply add a folder link to the jDownloader and jDownloader downloads all files from the folder.
Negative is that there is no way to unpack archives (like RAR or ZIP). This only works for Usenet archives at the moment. Many files from filehosters are therefore not really usable in the cloud. In my opinion, completely incomprehensible and a very big drawback.
Streaming
It is possible to stream videos from the cloud and from filehosters directly in browser. Furthermore, the videos can be streamed to the TV from the player via chromecast or airplay. The option to automatically search for suitable subtitles is also very nice. Unfortunately, you cannot use your own subtitles.
For streaminghosters, the browser addon of Premiumize.me offers the possibility to open streams directly via Premiumize.me, perfect for embedded videos. For Kodi, there is also an addon for streaming files from the cloud.
VPN
Almost 30 different countries are offered. There are many servers in Europe, but also in Asia and North America. All common VPN protocols are supported.
During my tests I was usually able to make full use of my Internet connection. Some more popular locations such as Switzerland (live TV streaming) or the USA were sometimes a little bit slower. Unfortunately neither Netfix nor Hulu works with the US server. However, the Swiss server supports Wilmaa.ch and Teleboy.ch without any problems.
In my opinion, the service can easily keep up with some VPN providers.
Proxy
Premiumize.me offers its own addons for Google Chrome and Mozilla Firefox. This makes it easy to use some selected proxy servers. Some of these are probably the VPN servers. Very handy if you just want to quickly change the IP in your browser, but don't want to pass on all the traffic.
VoIP
VoIP is not offered by Premiumize.me itself, but Premiumize.me creates an account with a VoIP provider for the user and then charges the credit accordingly with points; is thus technically only a whitelabel reseller. 100 points correspond to one Euro of credit. The per-minute prices are sometimes quite excessive, but are most likely set by the VoIP provider. Since the calls are paid with points anyway, this is also not so important to me, for power users who count every point twice, perhaps interesting.
Apps for Android and iOS, as well as a program for Windows are offered. Furthermore, SIP can also be used (e.g. for telephone systems, Fritzbox, other apps and programs). The "Local Access" feature is also very practical, where you call a local landline number and can then make calls via Premiumize.me. Perfect for saving data volume or in case of poor network coverage.
The call quality was usually quite good and I hardly noticed any difference to the normal telephone. Incoming calls are of course not possible. In the last days the VoIP feature did not work anymore, because the message "low balance" was always displayed, so I can only assume that Premiumize.me itself has no more credit, because my account still has enough credit. Two days later, following an inquiry, I received feedback that there were currently "technical problems".
Update: Even a few days later, nothing works. A public notice is still not available. At least I received one week free of charge as compensation.
The Speed
The speed varies depending on the service used. Premiumize.me offers the possibility to select a "CDN-Server" in the account settings. This means that the download is routed through these servers, which can be helpful in case of bad routing. According to support, the cloud servers are located in Europe, while the download servers for file hosters are distributed worldwide. Unfortunately, the CDN setting is only offered for files from the cloud.
Download into the Cloud
Unfortunately, the download speed into the cloud can hardly be measured. An HTTPS download of our 10GB test file took only a few minutes. However, exact speeds are usually not indicated to us. Basically it can be said that even large files are downloaded quite quickly.
Download from the Cloud
We test the speed with a 1 GB test file with several servers. The CDN setting was set to "Automatic" for the test. Further information on the process can be found here.
United States: 26.2 MB/s
United Kingdom: 28.5 MB/s
Netherlands: 27.2 MB/s
India: 11.9 MB/s
Singapore: 8.59 MB/s
Australia: 8.95 MB/s
Japan: 632 KB/s
The speed is absolutely great. With multiple connections and parallel downloads you can probably even use one gigabit line at full capacity.
Download from Filehosters
ere again we test with the same file, whereby we have now uploaded it to different file hosters.
Country: Uploaded.net | Openload.co | Icerbox.com | 1Fichier.com
United States: 28.6 MB/s | 28.4 MB/s | 21.7 MB/s | 27.8 MB/s
United Kingdom: 58.9 MB/s | 60.6 MB/s | 42.6 MB/s | 4.23 MB/s
Netherlands: 61.7 MB/s | 90.2 MB/s | 40.6 MB/s | 38.5 MB/s
India: 10.6 MB/s | 11.3 MB/s | 11.3 MB/s | 11.1 MB/s
Singapore: 8.57 MB/s | 8.40 MB/s | 8.61 MB/s | 8.54 MB/s
Australia: 9.22 MB/s | 3.31 MB/s | 8.87 MB/s | 9.58 MB/s
Japan: –.– MB/s | –.– MB/s | –.– MB/s | 412 KB/s
Due to technical problems at Premiumize.me I could not test three of the four file hosters with the Japanese server.
Download from Usenet
When downloading from the Usenet (with a newsreader) I was able to achieve a stable ~19 MB/s throughout.
Support
The support is very reminiscent of the subsidiary Zevera.com. Who has read my review about it, the following should look very familiar:
I have been a private customer of Premiumize.me for some time now, so I can tell from experience that tickets from Robert Bauer, Peter Schmid and Daniel König are always answered quite quickly, while tickets from Thomas Pak only seem to be answered once a week (if you are lucky). Since tickets for payment matters probably go to him for the most part and once I even issued a chargeback of my credit card payment, since no reply came.
It is incomprehensible that the management at Premiumize.me has not yet done anything about this.
The Pricing:
Since Premiumize.me offers a lot, I find it difficult to evaluate whether it is a good price-performance ratio, since one probably does not actively use all services. To make it worthwhile, you definitely have to use several services. On the other hand, Premiumize.me, with 9.99 EUR per month, is still in the range of a single filehoster account. Who wants to commit itself equal longer, can do this for 5,83 EUR per month (with the annual price of 69,99 EUR). Special offers, which are offered by Premiumize.me for special events (e.g. Christmas or the current World Cup), are often even cheaper, e.g. there is currently a year for 59.99 EUR (4.99 EUR per month).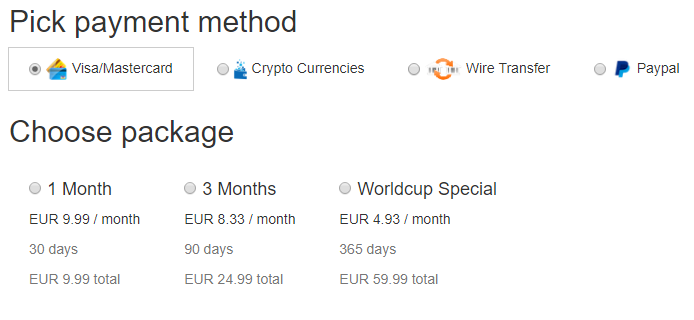 Payment methods vary according to IP, but payment by credit card (VISA, Mastercard) is accepted, as well as crypto currencies and bank transfer. For countries outside the EU, PayPal is also available (with a heavy additional charge). For Germany and Austria there is also the PaySafeCard alternative CashToCode (similar to Barzahlen.de) and for Europe Sofort-Banking. Taxes and fees are already included in the current prices on the website, although you should be careful as prices can change by clicking on another payment method. As far as I could see, this was only the case with PayPal.
Negative is that refunds are almost impossible and there is no testing possibility.
Conclusion:
Premiumize.me is the Swiss army knife for the Internet. Unfortunately, Premiumize.me also includes things that you don't actually need, but still pay for. In my opinion, the VoIP feature, for example, is quite nice, but doesn't fit to a multihoster at all. The filehosters are a big disappointment and mostly useless. Torrent and Usenet often cause problems in the cloud. There are (as with Zevera.com) many little things that are annoying and simply completely ignored by Premiumize.me team.
But I find the browser addon very positive, which is very useful to use streaming hosters or to quickly disguise the IP with one of the proxies and the VPN service.
I can't recommend Premiumize.me at the moment, if you are mainly looking for the download functions. But if you also use the other functions (at least partially), you get a good overall package for a reasonable price.
Offer:
If you register via our campaign link, both you and we get 15 days for free. You must purchase a premium package within 30 days of registration to be eligible.
Pros
Filehosts working as advertised
Torrent / Usenet available
Cloud-Storage included
Highspeed Downloads
VPN included
VoIP included
RSS-Feed Downloader
Streaming
Browser-Addons
Cons
Partially bad support
Website should be improved
Extraction of archives (RAR, ZIP, etc.) not possible in cloud
Only 720p HD Quality available for Pornsites
No Refunds / Trial
Strong limitations for filehosters
Complex fair-use system