As we reported back in May, the multihoster RPNet was most likely taken over by Premiumize.me. Let's see how the service compares now, because RPNet version 4.0 was released in the course of the takeover, and it looked anything but finished at last.
What is offered:
RPNet offers access to 55 different "cloud storage services" according to its own information. In fact, it is a mystery how they come up with this number, because they currently offer 35 filehosters, torrent downloads, and a variety of websites that you can download from for free anyway. Furthermore, there is a VPN service. A proxy service has been announced for 1.5 months along with the new browser add-ons, but that is yet to come.
An online storage with 500 GB is also included.
Limits:
Since the limits have been constantly changed in the last weeks since the takeover, it is questionable how long the currently valid limits will last. While initially there was no limit at all, after a short time so-called "traffic points" were introduced, together with a factor for some services, as already known from Premiumize.me or Zevera.com. This was followed by daily limits (traffic and link limits). In the meantime, however, the factor has disappeared again. As with Premiumize.me, you have 1000 points at your disposal, which presumably (even if it is not stated anywhere) stand for 1000 GB of traffic. Unlike Premiumize.me, downloads from torrents to the HDD storage cost points. But downloads from the HDD Storage are apparently free and unlimited.
The Website:
The website is very clear and tidy. The old design was more or less completely taken over. In the dashboard, you can find all the necessary links and pages in the menu on the left side.
The Service:
Filehoster
The list of filehosters has significantly decreased with the acquisition. Many popular filehosters are no longer offered. At least Rapidgator is now listed again, but only in "queue mode" (an explanation is searched in vain) and has been in "under maintenance" mode for some time. In total, 11 of the 35 filehosters are in this or the "Instable" mode, including unfortunately filehosters like DDownload, FastFile, File.al or WDupload, which became Emload months ago. Other filehosters like Uploaded.net or Uptobox.com, however, work flawlessly. At least it can be said that the displayed status is also correct – at least during my tests.
The queue mode is a function where links are inserted into a queue and then processed, in principle similar to the torrent download. Since Rapidgator.net is the only filehoster that only offers a queue mode, I unfortunately could not test if the mode also works in jDownloader or exclusively via the website.
A special feature are the Stream Downloads, which already existed in the last version of RPNet. If you add links from filehosters that you download directly, they are saved under Stream Downloads in the downloader. This way you can download the files again if you want to, without saving them to your HDD storage. However, this will probably only work as long as the file is available on the filehoster. Although the Stream Downloads can be deleted manually, the function cannot be deactivated completely. Thus, it is necessarily saved which files were downloaded.
Torrent
Downloading torrents is very simple. You can simply add magnet links or .torrent files and they will be downloaded to your HDD storage. However, despite what is stated on the website or what I interpreted, downloading torrents does not cost any points.
HDD Storage
The included storage can be used for all downloads. While torrents and files from filehosters/websites in queue mode are loaded directly into the HDD storage, this can be optionally activated for filehosters (without queue mode). The upload of own files is otherwise not directly possible.
A very negative point: Although it is not stated anywhere, the download from the HDD Storage costs points. According to the billing table, one traffic point is charged per GB of traffic.
VPN
RPNet also offers three VPN servers in the USA, UK and Germany. Only OpenVPN is available as protocol.
Supported tools and programs
As things stand, only jDownloader is supported. As already mentioned, the browser addons and also the Load! integration are still a long time coming.
Support
The support answered my questions promptly, mostly I got an answer after 1-2 days. Only on my inquiry about the points calculation of torrent and HDD storage, I have unfortunately not received an answer. Probably RPNet itself noticed that something is wrong.
Logging:
The privacy policy states that payment data etc. is stored, but apart from law enforcement agencies, no data is shared.  Unfortunately, it is explicitly described that the IP address is stored with every page view in order to identify the user and obtain demographic information. Furthermore, the browser used, the operating system used, cookie settings, search terms entered in search engines, number of visits to the website, pages visits and time spent on these pages are logged. However, according to the privacy policy, these data are anonymous and are not linked to personal data.
Beyond that, there is unfortunately no information about downloads. It is not explained which data is logged during downloads. However, due to the Stream Download function, it can be assumed that all downloads are logged. Furthermore, RPNet scans all files in the HDD storage for child pornographic content by means of a hash. If the result is positive, personal data is transferred to non-governmental organizations.
RPNet and the company behind it, Devlabs Pte Ltd, are based in Singapore. Whether the data is actually independent of Premiumize.me is questionable, even if this would be illegal according to the privacy policy. By the way, Premiumize.me is located within the EU in Belgium.
The Pricing: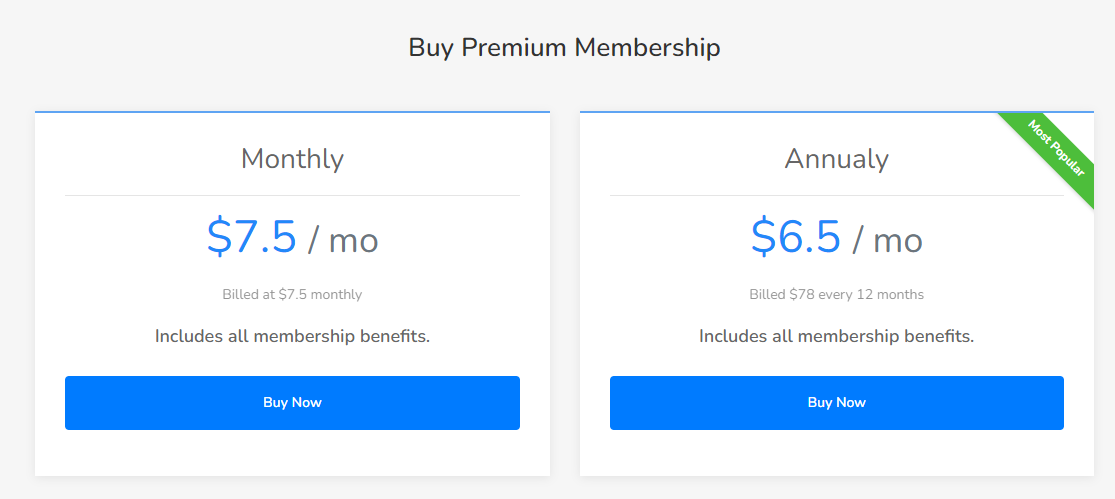 The available packages are kept very simple, so you can only decide between monthly and annual payment. RPNet only offers subscriptions, one-time payments are apparently not possible.
When paying monthly the package costs US$ 7.50 per month, when paying annually US$ 78.00 per year (so about $US 6.50 per month). The prices are probably plus VAT, although this is not really made clear. As an example: US$ 7.50 is about 7.00 EUR, but when paying 7.99 EUR is due. According to the payment service provider FastSpring, this amount includes 20% VAT (1.33 EUR). So you should look carefully what price is displayed at the end.
By the way, accepted payment methods are credit card and PayPal. More anonymous payment methods like crypto currencies or PaySafeCard/CashToCode are not accepted.
Furthermore, RPNet offers a full money-back guarantee within 14 calendar days of purchase.
Conclusion:
The new version 4.0 is not really convincing. Many filehosters have been lost due to the takeover and the missing browser addons are not nice. Unfortunately, the price has increased at the same time. The daily limits are generous (e.g. Rapidgator 50 GB per day), but all this is of no use if the filehosters do not work at all. Should RPNet offer the missing and non-functioning filehosters again, I would say that you can recommend the multihoster. From my eyes, for example, Linksnappy is better, but also costs more. As it stands, there are just too many filehosters missing at the moment, either because they have been removed or because they don't work.
Pros
Filehosts working as advertised
Very good limits
VPN included
500 GB storage included
Fast support
14 days money back
Cons
Many filehosts not working
Incorrect traffic billing (cloud/torrent)
Incomplete privacy policy
Missing browser addons