Cocoleech.com was last reviewed by us in August 2018. There we attributed "excellent service" to the service and Cocoleech scored 8.8 out of 10 points. Unfortunately we received some comments and e-mails describing that the service would not work anymore and that the support would not react any more. So it was time for another review of Cocoleech's VIP offer.
What is offered:
Cocoleech offers over 30 filehosters, including many interesting ones like Depositfiles, Icerbox, Rapidgator, Nitroflare and Share-Online. The respective status is also displayed transparently in the overview. The status reflects the current availability (probably it will be checked if the last download was successful or not).
In our last test only a few filehosters didn't work. Now it's much more: 12 filehosters are marked as "Offline" at this time, including Share-Online, Nitroflare, Hotlink and Fboom.
Limits:
The limits are very transparent and very simple. Basically there is no traffic limit, but about 2/3 of the offered filehosters have daily limits. Most of the limited hosters have a limit of 1-10 GB per day, some up to 30 GB per day. Recently we complained that the limits are a little bit very limited, because e.g. Filer.net and Mediafire.net, which are not really problem hosters, offer very little traffic per day. Unfortunately, this has not changed so far.
A complete list about the hosters and limits can be found here.
The Website:
The website has not changed since our last review:
It is very clear and everything is easy to find. Via the menu you can access the downloader, the premium packages, the hoster list, the support and the account overview. You don't really need more than that. Everything unnecessary has been omitted.
Already the last time we complained about a small sticking point, namely the downloader, which could handle a few more functions, so unfortunately you still can't upload DLCs and only add a maximum of five links. Here you can clearly see that the downloader is only intended for fast downloads if you don't have a download manager at hand. In my opinion, it's fine, because most people should use a download manager like jDownloader anyway.
The Service:
Filehoster
As already mentioned, many filehosters are "currently" unavailable, although it looks like this has been the case for some time.
Unfortunately, it looks like many more filehosters are not available. In my tests only Uploaded.net, Rapidgator.net and 1fichier.com worked.
Mx-Sh, Filer, Turbobit, Openload and Mediafire didn't work at all, although they were displayed as "Online".
The Speed
The speed was pretty good (if the download worked at all), most of the time I was able to reach a stable 50 MB/s.
Support
Practically the support is not available. I haven't received an answer to my support request even after more than a month.
The Pricing:
Cocoleech offers packages from one week. The package is quite expensive with 4.99 USD, but perfect for testing or for occasional downloaders who get along with unlimited file hosts and therefore only need a premium account for a short time. But a month with 7.99 USD is not much more expensive. It becomes interesting starting from the 3-month package (19.99 USD), since Cocoleech adds 15 days free of charge, with the 6-month package (35.99 USD) even one month. At present still as Christmas special indicated also the 1-Year-Package is offered for 55,99 USD. So Cocoleech VIP even starts at 4.67 USD per month.
Whereby, that's not quite true, because to the premium purchase there are also the so-called loyalty points. The model is already known from Uploaded.net. With each Premium purchase there is a certain number of points and 10,000 points can be converted into a month of Premium. With the 1-year package, for example, there are already 10,000 points, otherwise there are always 1,000 points per month purchased (exception is the weekly package, there are already 500 points).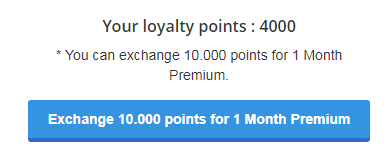 You can also not complain about the offered payment methods. Cocoleech offers several payment service providers, which is why many payment methods are accepted twice and three times. These include VISA, Mastercard, American Express, PayPal, Amazon Pay, Sofort Banking, iDeal, Bitcoin. But be careful, one of the payment service providers is FastSpring and this is charging taxes on top. Otherwise PayPal is offered with +20% fee and Bitcoin even with -20% discount! There are also many resellers.
Unfortunately there are no refunds or free trial memberships.
Conclusion:
The offer hasn't really changed since our last review, but unfortunately the service has been massively reduced, which is why Cocoleech has become quite useless. The offer is far too expensive to be worth it for three filehosters. Only Rapidgator would be interesting, whereas it would be very risky to buy a premium account just because of that, because the hoster can stop working overnight, too. Therefore one can only advise against the use of this multihoster.
Transparency Notice:
For this test, Cocoleech.com provided us with a free account. However, this does not affect our objective review. Further information can be found here.