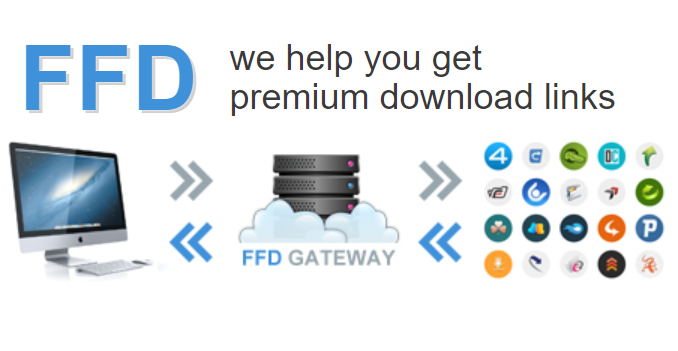 The service FFDownloader.com (FastFileDownloader) was completely unknown to me, all the more exciting to test the provider. Since the website is available in English and Russian and the list of filehosters also includes popular filehosters for Russia, I strongly assume that the service is operated from Russia. Unfortunately there is no imprint or the like.
What is offered:
The download from more than 30 filehosters is offered, whereby there are filehosters in the list which no longer exist, e.g. KingFiles or Uploading. However, many of the filehosters are quite popular and difficult to find (working) with other multihosters, such as Nitroflare, Icerbox, Gigapeta, etc. Unfortunately hosters like Keep2Share, Fboom or Share-Online are missing. Furthermore, downloads from PornHub, XVideos, YouPorn, Youtube and Vevo are offered.
Limits:
Per paid day you get 7GB traffic, i.e. with a 30 day account 210 GB can be downloaded and as I understood it, the 210 GB could also be used on one day. Accordingly, you cannot download anything on the remaining days. If all traffic has been used up, the premium account has expired (regardless of the actual runtime). This is quite practical, because you can buy a new package right away.
Furthermore, according to the website, there are some daily limits for filehosters, which only become visible as premium user. At least the download of a large file is not aborted if it exceeds the limit, but is calculated for the next day. Currently, I only see two filehosters with limits: Nitroflare (8GB) and Icerbox (30 GB). Very generous limits for these filehosters.
I find it very confusing that according to the traffic policy the download of a file in many small parts (probably one file in many small RAR archive parts) is billed at +5-20%. Unfortunately, this is not explained in more detail.
The Website:
The website is functional, clear and simple. All functions and pages can be found quite quickly, but you also have to say that there are only a handful of pages. Unfortunately, the English translation is not that good so it leads to confusion sometimes. There is a page with information about how the service works, but the site doesn't work and I don't think it's necessary. Nevertheless, the website should be revised urgently.
The Service:
Filehoster
There is a list of all supported filehosters, but unfortunately the individual filehosters don't have a status, so you only notice if it works or not when you download them. During my test all important ones worked, like Uploaded, Nitroflare, Icerbox, Rapidgator, Hitfile, Turbobit and Gigapeta. Some others like Filesflash.com and Filespace.com didn't work.

I also noticed very positively that the traffic for aborted files is only calculated proportionately. I.e. if I cancel the download at 100 MB, then only 100 MB will be charged.
The download via the jDownloader ran relatively problem-free, some downloads got stuck for a short time, but then continued automatically after a few seconds.
Pornsites
Some porn sites are also offered, such as PornHub, Xvideos and YouPorn. Positive is that you can choose the quality of the download. Unfortunately, I can only report negative otherwise. Unfortunately YouPorn didn't work at all and apparently the download only works via the website. There doesn't seem to be any exclusive content anyway, at least I could download my selected test files without FFDownloader with the jDownloader (in the same quality), so there doesn't seem to be any premium access, as you know it from Debrid-Italia or Premiumize.me.
The feature is therefore relatively unusable.
The Speed
We test the speed with several servers with a 1 GB test file. You can find more information about the procedure here.
United States: 14.7 MB/s
Great Britain: 46.1 MB/s
Netherlands: 17.7 MB/s
India: 11.9 MB/s
Singapore: 7.75 MB/s
Australia: 3.73 MB/s
The download servers are apparently located in the Netherlands. Even from Australia the speed is still quite ok. In jDownloader I was never able to establish all connections. Often only one or two connections have been established, which can lead to the line not being fully utilized if the Internet connection is really fast.
Support
Support is available via e-mail, Skype, ICQ or web form. As far as I can judge, support requests are answered once a day, whereby sometimes longer waiting times can occur. Here is definitely still potential upwards.
Logging
Apparently the provider logs a lot and this is also shown to the user. The account contains the traffic logs as well as the login logs with IP address and time stamp. Also the payments can be seen in the account. Interestingly enough, the traffic logs repeatedly contain IPs from Amazon.com that are definitely not mine (the downloads are definitely mine, though).
Pricing:
I personally find the prices a bit inflated. While 30 days (210 GB traffic) cost 10.99 USD, the 90 day package (630 GB traffic) costs 26.99 USD (9 USD per month). Unfortunately there are no longer packages and the 90-day package can only be paid with Webmoney. The other payment methods like MOLpay, Neocard, Boleto, Qiwi Wallet, YaMoney, Neosurf and bank transfer (Trustpay), as well as resellers, are only available up to the 60-day package. After the first payment credit card and PayPal are suddenly available.
It is also indicated that PaySafeCard is accepted, but this option is no longer available at the end of the payment process.
But it is very positive that 300 MB of free traffic are offered to test the service. If this is not enough for you, you can also buy a premium day for 1.99 USD and test it with 7 GB. Refunds are also possible if you contact them within 5 days and have not downloaded more than 10 files or 5 GB.
Conclusion:
Even if the website is a deterrent to you, you should risk a second look. The offered filehosters are really good, some of them you can't find at the competition or you can find them, but they don't work. The isolated limits are extremely high, but unfortunately the traffic is very expensive. If that doesn't deter you, you can access this multihoster with a clear conscience. Due to the high costs, the missing status display and the useless porn sites, the Multihoster unfortunately achieves rather mixed results with this test.
Transparency notice
FFDownloader.com provided us with a free account for this test. However, this does not affect our objective evaluation. Further information can be found here.
FastFileDownloader
US$ 10.99
Pros
Filehoster selection
Barely daily limits
Highspeed
Traffic completely available
Cons
Missing filehoster status
Partially slow support
Pricing
Logging
Pornhosts useless