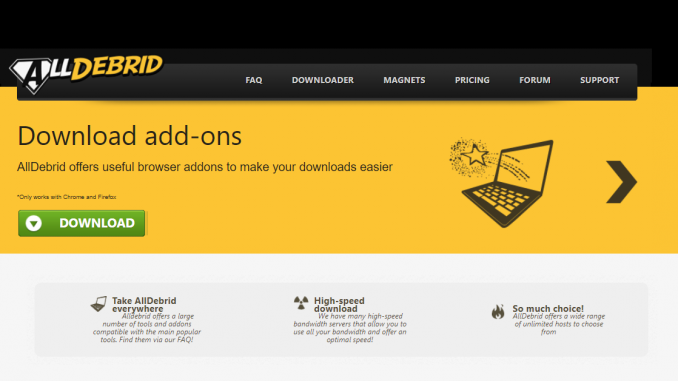 AllDebrid.com is next to Real-Debrid probably one of the best known French multihosters. The price of AllDebrid is also rather at the lower end, so I am excited to see the multihoster's performance.
At the very beginning, it should be noted, that the registration process is anything but simple. Basically, we run the tests with a dedicated server. However, I was refused registration for the first time, because I used a server IP address. I didn't even want to use the "free trial", because AllDebrid provided us with a voucher for testing. Nevertheless, the registration is denied. However, the sense is still not quite clear to me, because you still need a cell phone number to verify the test account. With the public hotspot next door it finally worked, hopefully that is not so strict for the download.
What is offered:

AllDebrid conveniently directly provides a self-description for the partners:
AllDebrid is a site that allow to generate links and download speeds from more than 72 file hosts and 946 streaming platforms, without having to pay a premium account on each file hosters.

We offer multiple tools to make it easier for you: addon for browsers, streaming, torrent file conversion, support for multiple download managers such as Jdownloader, and more!

No more limitations from the file hosters, enjoy your downloads at full speed!
AllDebrid.com offers 72 filehosters ( but including services like Youtube, Soundcloud, Vimeo, etc.) and 946 streaming sites (probably without premium features). The overviews (right and below) are offered by AllDebrid directly for embedding, so this content may change automatically later. The status of the filehosters can not be seen anywhere at first glance. With a premium account, you can then find this page (but it also works with a free account).
Apart from that, AllDebrid also offers the possibility to download torrents.
Limits:
AllDebrid has limits, but you can't find out much about them without a premium account. There is apparently a daily limit for individual filehosters. It is possible to exceed the limit for larger files, but then it takes longer to reset the limit.
With a premium account you can see the limits of the filehosters (see picture on the right).
The limits are very fair and generous, if you look at Rapidgator or DDownload (each 50 GB per day).
The Website:
The website could definitely benefit from a complete overhaul and looks as if things have been added over and over again. But basically it is clearly arranged and structured.
Although AllDebrid is a premium service, the website features advertising banners from Google Ads.
The Service:
Filehoster
The offered filehosters are quite convincing. Many popular filehosters like Rapidgator, Uploaded, Turbobit, DDownload, Uptobox, 1fichier, Filefactory, etc. are available. Nitroflare, Oboom or Keep2Share are unfortunately not available. The absence of Filer.net is also conspicuous.
But the filehosters mentioned above actually work. Some services are marked as offline, but for once not the popular filehosters are offline, but rather unknown ones.
Torrent
The torrent downloader works, but is typical for multihosters, rather suitable only for casual users. You can upload a .torrent file or insert a magnet link. Links to .torrent files do not work, unfortunately.
There is obviously a cache, because many torrents are available immediately.
An interesting thing is that the downloaded torrents are uploaded to the filehoster UpToBox.com and are not stored by AllDebrid itself. After that, the torrent can be easily downloaded from UpToBox via Alldebrid. This is also practical in that respect, as it means that all tools (e.g. jDownloader) are directly supported. However, one must always keep in mind that the torrents are publicly available on UpToBox for an unknown time.
Supported tools and programs
Many download managers like jDownloader or Load! are supported. There is also a plugin for the Synology Download Station.
Furthermore, AllDebrid also provides browser addons for Chrome and Firefox. Via these addons you can generate links, add torrents, stream or receive notifications (e.g. when torrents are completed).
For Android, there is also an app that can be obtained from the Play Store. This also supports the "basic functions" of AllDebrid. For iOS, the mobile website is the only option.
Streaming
Media files can be streamed in a simple web player after link generation. Alternatively, the files can also be streamed in VLC Media Player.
An HTTP interface for Kodi is also provided. However, the prerequisite for filehoster links is the activation of the "Link History", otherwise this will of course only work with torrents.
Support
The support answered me quickly by email.
Apart from that, there is a forum for users, however, this seems pretty useless to me, because pretty much every thread is closed by AllDebrid with reference to the creation of a ticket.
Logging: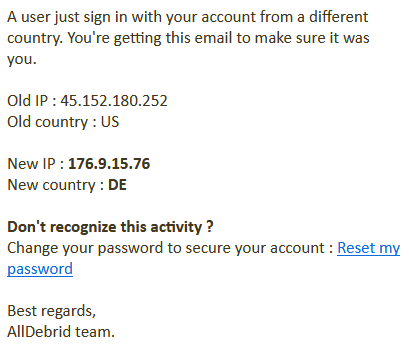 If you are looking for privacy, you are completely wrong at AllDebrid, because it seems that pretty much everything is logged that is possible.
This is already noticeable when logging in. If you log in with a new IP address, you immediately get an email (see right) with the old and new IP address. As a test, I did this with an account in which I had not logged in for ages and actually I got the same email with an IP of my former provider, which I had at that time.
Unfortunately, neither in the terms of use, nor in the privacy policy, there is even the word "IP address", not to mention how long user data is stored.
Upon request, I was unfortunately only referred to the privacy policy. Also on request, I was again rejected with reference to the privacy policy. In principle, it can therefore be assumed that AllDebrid logs significantly more than they officially admit.
AllDebrid also has a "Links History" that logs any downloads. According to AllDebrid, this feature should be disabled by default. However, on my newly registered account, the feature is enabled. At least it says that the logs are only kept for 72 hours, which seems to be the case.
Access restrictions:
Unfortunately, AllDebrid restricts access massively. Dedicated servers, VPS, proxy servers and corporate networks are generally not allowed and are blocked for downloads. That alone should immediately disqualify use for many (including me personally).
VPN servers, on the other hand, are allowed with restrictions. Basically all server IP addresses are blocked, but AllDebrid has unlocked VPN IPs. If the IP is not unlocked after all, you can have it unlocked. However, this should only apply to commercial providers and not to the private VPN server. AllDebrid also reserves the right not to unlock IP addresses.
On the one hand, the decision is understandable, but on the other hand, it certainly hinders many normal users and is thus naturally a negative point in the rating.
The Pricing:
The prices are pretty reasonable. For just 25€, you get almost one year of Premium. Credit cards (Visa/Mastercard), Sofort Banking, Amazon Pay and Bitcoin are accepted as payment methods (from 30 days). In addition, there are bonus points for each payment, which you can then use to extend your account again. 150 points are worth 30 days.
Conclusion:
AllDebrid is definitely convincing in terms of features. Many popular filehosters are offered stably and with generous limits. Furthermore, the price is unbeatable, of course. The torrent downloader is also a nice-to-have for casual users.
The pure offers could definitely scratch the full score and would definitely end up in 1st place for us. Unfortunately, the logging policy and the blocking of server IPs are big negative points. If this doesn't bother you, you can definitely use AllDebrid with a clear conscience. In any case, you should assume that everything is logged. An approved VPN or proxy server is therefore recommended in any case.
Transparency note
For this test, we were provided with a free account by AllDebrid.com. However, this does not influence our objective evaluation. If you purchase a premium account through our affiliate link, we will be credited with 5-10 bonus points. You can find more information here.
Download restrictions
3.0/10
Pros
Popular filehosts supported
Filehosts working as advertised
Pricing
Fair limits
Cons
Dedicated Servers/Proxies/Company Networks not allowed
Logging
Incomplete privacy policy